CASK Neshaminy Creek County Line
American IPA with Pineapple – 6.7%
Jolly Pumpkin Bam Biere
Sour Farmhouse Ale – 4.5%
Pizza Boy Breaking the Law
Upland Darken
Barrel aged sour brown ale – 9%
Dieu du Ciel Rigor Mortis
Half Acre Fluorescent IPA
Bruery Share This
Imperial Stout with Coffee – 10.9%
...stay tuned for future events...
Cobb Salad
romaine, pancetta, tomato, bleu cheese crumbles, soft boiled egg, avocado, red onion, buttermilk ranch dressing
Chicken Quesadilla
cajun smoked chicken, pimento cheese, bacon and Alabama white BBQ sauce
Buffalo Wings
choice of hot, BBQ, honey jerk or Korean BBQ served with celery and bleu cheese
Mushroom Toast
mushroom saute in a mustard sauce on sourdough toast with a farm fresh fried egg
Egg & Cheese Sandwich
eggs, cheddar cheese, arugula & tomato on a house made focaccia served with home fries
*add chorizo sausage, bacon, scrapple, breakfast sausage
Breakfast Burger
Local ground beef, house made sausage patty, Conebella cheddar cheese and a fried egg with lettuce, tomato and onion served with hand cut fries and pickle
Pulled Pork Sandwich
Lancaster County hormone free slow-cooked pork butt on a toasted white roll with your choice of sauce North Carolina or Cumin BBQ served with cole slaw and hand cut fries
Eggplant Panini
panko breaded eggplant, smoked mozzarella and tomato jam pressed on sourdough served with hand cut fries
Steak & Egg Burrito
scrambled eggs, marinated beef tenderloin, roasted fingerling potatoes and arugula in a flour tortilla, grilled, topped with house made cheddar cheese sauce and pico de gallo served with home fries*
Eggs Benedict
poached eggs, Green Meadow Farm country ham and hollandaise on an english muffin with home fries*
Breakfast Poutine
scramble of eggs, homefries, peppers, onions, & smoked cheddar topped with hollandaise
BBQ Benedict
house smoked brisket, caramelized onions, poached eggs and BBQ hollandaise on a biscuit served with home fries*
Skillet Baked Eggs
refried beans, caramelized onions, tomatoes, pepperjack cheese, and house made guacamole served with tortilla chips and home fries*
Carrot Cake French Toast
house made carrot cake, french toast battered, and grilled topped with cream cheese glaze served with fresh fruit
Omelette
sauteed mushroom, asparagus and truffle goat cheese omelette served with home fries*
Chicken and Waffles Sliders
pickle brined fried chicken on belgian waffle sliders with honey hot sauce served with fresh honey comb and with home fries*
Shrimp and Grits
Shrimp, house cured tasso ham, garlic, scallions, butter and cream over a fried cheddar grit cake
Cream Chipped Beef and Biscuits
skillet baked biscuit topped with cream chipped beef served with home fries*
---
*Our home fries are cooked in duck fat and seasoned with rosemary, parsley and thyme*
Bacon
Local dry cured smoked pork belly
Scrapple
Everything but the oink
Chorizo Sausage
-
Breakfast Sausage
-
Biscuit
skillet baked biscuit, raspberry honey
Focaccia Bread
house made, herb olive oil
Seasonal Fresh Fruit
-
Home Fries
cooked in duck fat and seasoned with rosemary, parsley and thyme
Coffee by Burlap and Bean
-
Cold Brew Coffee
-
Mimosa
sparkling wine, orange juice
Housemade Bloody Mary
Tito's Vodka & bloody mary mix The Bay or Stoli Hot
Poinsetta
sparkling wine, cranberry juice
Bellini
sparkling wine, peach schnapps
Peach Sunrise
peach vodka, peach schnapps, orange juice
Add Raspberry Peach Gran Marnier
No reservations accepted. Station Taproom is first come, first serve.
Hours
Open at 3pm Monday - Thursday
Open at noon Friday & Saturday
Brunch starts at 11am on Sundays
Happy Hour
Served Monday - Friday 4:30 - 6:30pm
$4 Select Pints, $5 Pulled Pork Sandwiches
$1 off Wine by the Glass and $1 off Bar Snacks
Connect With Us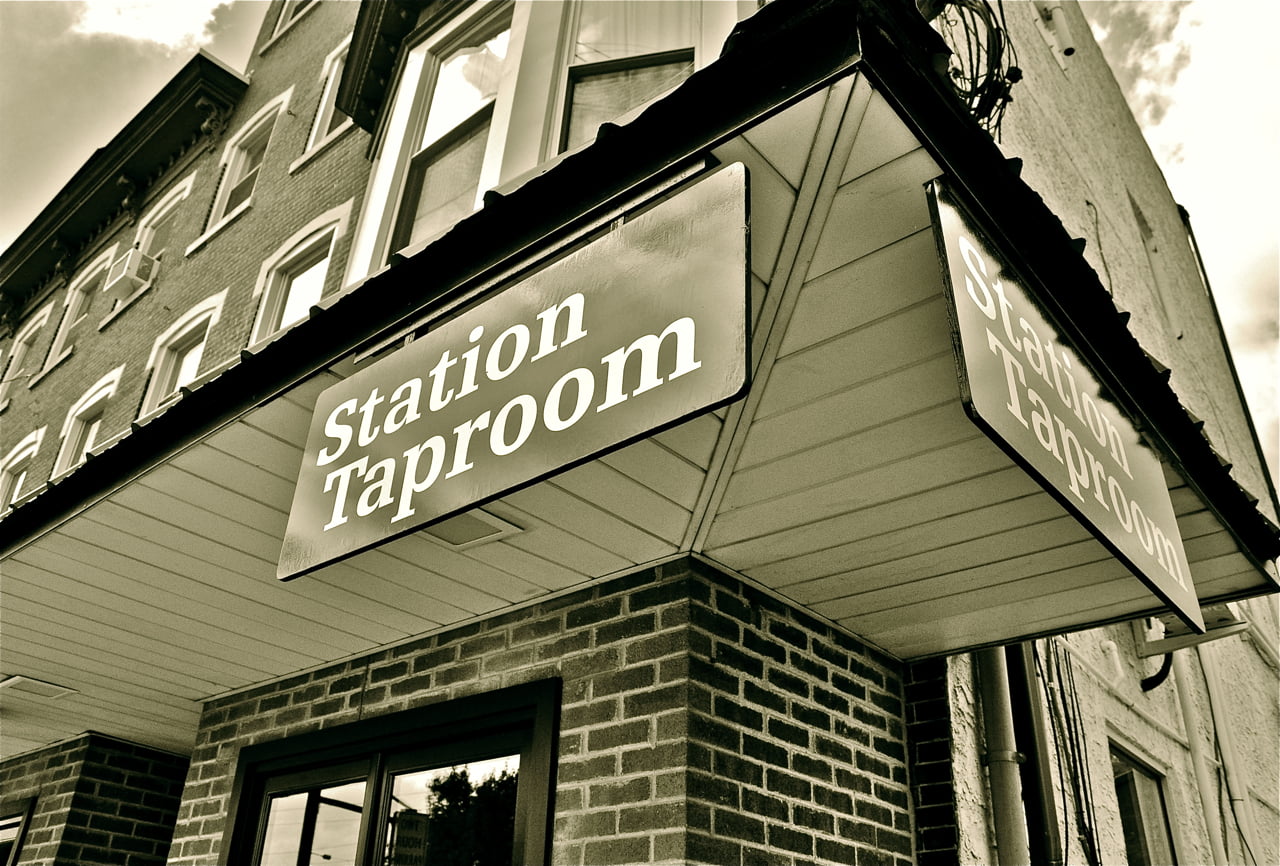 207 West Lancaster Ave, Downingtown, PA
Visit Bottle Room
To enjoy more on tap or beer-to-go, visit the Bottle Room next door.