CASK Neshaminy Creek County Line IPA
Dry hopped with mandarina bavaria
Allasgash Shiro's Delight
Sour Ale with cherry, plum & peppercorns – 9.3%
Upland Revive
Barrel Aged Fruited Sour Ale- 6%
2SP Up Up & Away
New England style oat IPA – 8.2%
Root Down Electric Soup
IPA with lactose and passion fruit 7.3%
Founders CBS
Coffee Stout aged in maple bourbon barrels – 11.7%
Station Taproom/ Bottle Room Anniversary Party
May 19th, 2018
Join us for a day filled with live music, beer, and food as we celebrate our 8th anniversary and Bottle Room's 2nd!
Look forward to beers from the following breweries:
East Branch
Root Down
Levante
Russian River
Free Will
Tired Hands
Founders
Evil Twin
Firestone Walker
and more to be announced!
Brussel Sprout Salad
shredded brussel sprouts, dried cranberries, spiced nuts, bleu cheese crumbles, pears, crispy shallots, maple balsamic vinaigrette
Chicken Quesadilla
cajun smoked chicken, pimento cheese, bacon and Alabama white BBQ sauce
Potato Pancakes
spinach and garlic potato pancakes, diced tomatoes, garlic aioli and a fried egg
Mushroom Toast
mushroom saute in a mustard sauce on sourdough toast with a farm fresh fried egg
Egg & Cheese Sandwich
eggs, cheddar cheese, arugula & tomato on a house made english muffin served with home fries
*add chorizo sausage, bacon, scrapple, pork roll
Breakfast Burger
Local ground beef cooked to your liking topped with Conebella cheddar, pork roll and a fried egg served with hand cut fries
Pulled Pork Sandwich
Lancaster County hormone free slow-cooked pork butt on a toasted white roll with your choice of sauce North Carolina or Cumin BBQ served with cole slaw and hand cut fries
Butternut Squash Pastrami Panini
pastrami seasoned roasted butternut squash, smoked mozzarella, beer braised cabbage, and russian dressing pressed on sourdough served with hand cut fries
Chorizo Burrito
scrambled eggs, house made chorizo, arugula, and jalapeno cheddar in a our tortilla topped with salsa verde served with home fries*
Eggs Benedict
poached eggs, Green Meadow Farm country ham and hollandaise on an english muffin with home fries*
Breakfast Poutine
scramble of eggs, homefries, peppers, onions, & smoked cheddar topped with hollandaise
BBQ Benedict
house smoked brisket, caramelized onions, poached eggs and BBQ hollandaise on a biscuit served with home fries*
Skillet Baked Eggs
refried beans, caramelized onions, tomatoes, pepperjack cheese, and house made guacamole served with tortilla chips and home fries*
Stuffed French Toast
cinnamon cream cheese stuffed french toast topped with maple bacon glaze served with fresh fruit
Fried Pickle Omelette
Green Meadow Farm country ham, cheddar cheese and fried pickles topped with a whole grain mustard sauce served with home fries*
Chicken and Waffles
smoked chicken gravy over house made waf es served with home fries*
Shrimp and Grits
Shrimp, house cured tasso ham, garlic, scallions, butter and cream over a fried cheddar grit cake
Sausage Gravy and Biscuits
skillet baked biscuit topped with chorizo sausage gravy served with home fries*
---
*Our home fries are cooked in duck fat and seasoned with rosemary, parsley and thyme*
Bacon
Local dry cured smoked pork belly
Scrapple
Everything but the oink
Chorizo Sausage
-
Pork Roll
-
Biscuit
skillet baked biscuit, orange honey
English Muffin
house made, raspberry jam
Seasonal Fresh Fruit
-
Home Fries
cooked in duck fat and seasoned with rosemary, parsley and thyme
Coffee by Burlap and Bean
-
Cold Brew Coffee
-
Mimosa
sparkling wine, orange juice
Housemade Bloody Mary
Tito's Vodka & bloody mary mix The Bay or Stoli Hot
Poinsetta
sparkling wine, cranberry juice
Bellini
sparkling wine, peach schnapps
Peach Sunrise
peach vodka, peach schnapps, orange juice
Add Raspberry Peach Gran Marnier
No reservations accepted. Station Taproom is first come, first serve.
Hours
Open at 3pm Monday - Thursday
Open at noon Friday & Saturday
Brunch starts at 11am on Sundays
Happy Hour
Served Monday - Friday 4:30 - 6:30pm
$4 Select Pints, $5 Pulled Pork Sandwiches
$1 off Wine by the Glass and $1 off Bar Snacks
Connect With Us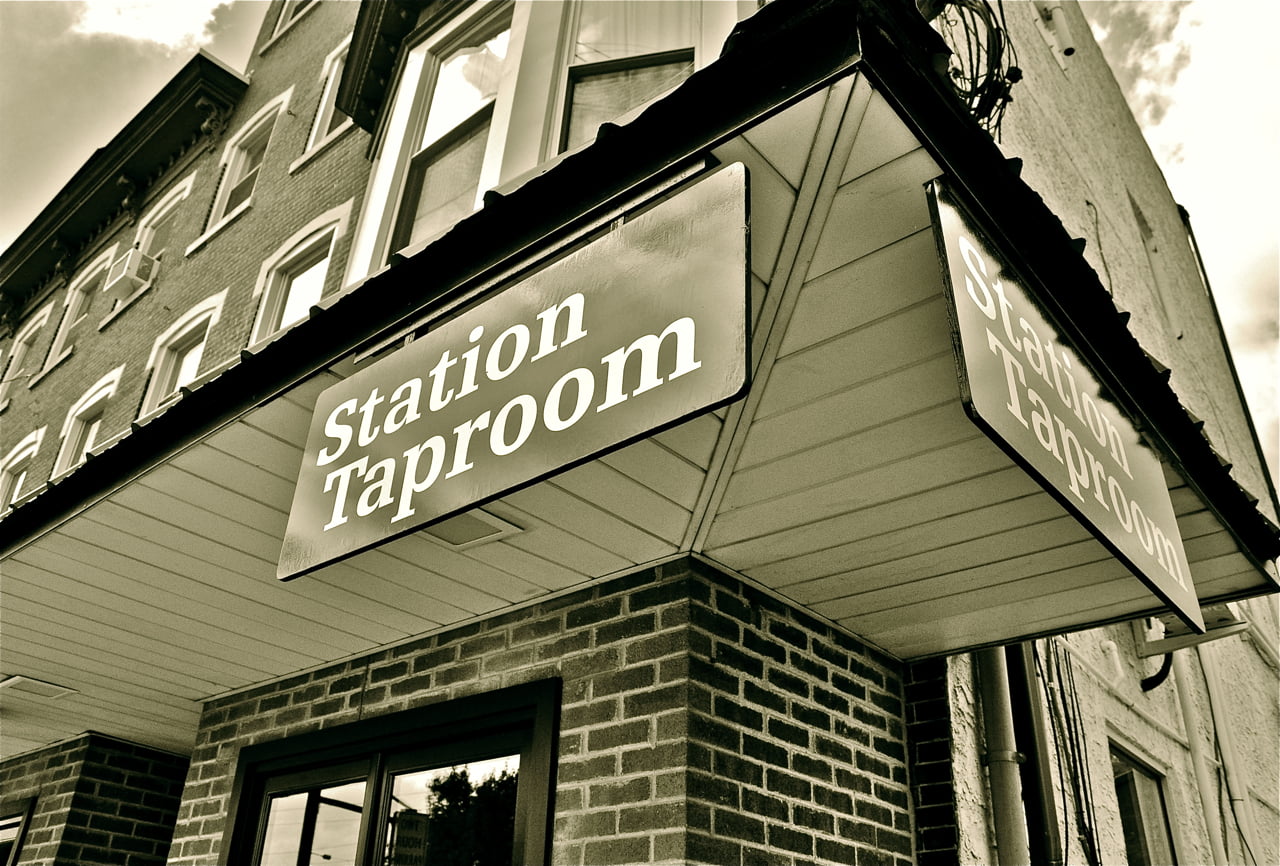 207 West Lancaster Ave, Downingtown, PA
Visit Bottle Room
To enjoy more on tap or beer-to-go, visit the Bottle Room next door.