CASK Sterling Pig Notorious P.I.G.
Baltic Porter with Vanilla – 7.4%
East Branch Bier d'Anniversary
Bier de Garde with peppercorns – 6.8%
Une Année Le Seul VII
American Wild Ale Fermented with Mango – 6.5%
Brothers Kershner Lone Eagle Dirt Road
Neshaminy Creek Frühstück
Breakfast Stout with chocolate & coffee – 10%
Cape May Coastal Evacuation
Brothers Kerschner Wheedle
Dock Street Man Full of Trouble
Allagash White
Belgian-style Wheat Beer – 5.2%
Station Taproom's
New Year's Eve Beer & Wine Dinner
First Course
Corn Chowder
Beer: Weinstephaner Hefeweissbier
Wine: La Forge Estate Chardonnay
Second Course
Charred octopus, pesto potatoes, sweet chili sauce
Beer: East Branch Bier de Garde
Wine: Valckenberg Gewurztraminer
*Wutang Cran Sorbet*
Third Course
Duck confit, smoked potato puree, glazed carrots, plum sriracha, crispy duck skins
Beer: St. Bernardus Prior 8
Wine: Muirwood Pinot Noir
Fourth Course
Dark chocolate terrine, thai basil ice cream
Beer: Old Rasputin (nitro)
Wine: Dios Baco Pedro Ximenez
Dinner starts @ 6pm
$85 per person (price includes beer/wine pairing)
For reservations email natasha@stationtaproom.com
Cobb Salad
romaine, pancetta, tomato, bleu cheese crumbles, soft boiled egg, avocado, red onion, buttermilk ranch dressing
Chicken Quesadilla
jerk seasoned chicken, cheddar cheese, sautéed jalapeños, pickled red onion, buttermilk ranch dressing
Buffalo Wings
choice of hot, BBQ, honey jerk or garlic honey served with celery and bleu cheese
Mushroom Toast
mushroom saute in a mustard sauce on sourdough toast with a farm fresh fried egg
Egg & Cheese Sandwich
eggs, cheddar cheese, arugula & tomato on a house made focaccia served with home fries
*add chorizo sausage, bacon, scrapple, breakfast sausage
Breakfast Burger
Local ground beef, house made sausage patty, Conebella cheddar cheese and a fried egg with lettuce, tomato and onion served with hand cut fries and pickle
Pulled Pork Sandwich
Lancaster County hormone free slow-cooked pork butt on a toasted white roll with your choice of sauce North Carolina or Cumin BBQ served with cole slaw and hand cut fries
Vegan Cheesesteak
house made seitan, sautéed peppers, onions and mushrooms, cashew "cheese" sauce, toasted club roll, hand cut fries
Steak & Egg Burrito
scrambled eggs, marinated beef tenderloin, roasted fingerling potatoes and arugula in a flour tortilla, grilled, topped with house made cheddar cheese sauce and pico de gallo served with home fries*
Breakfast Poutine
scramble of eggs, homefries, peppers, onions, & smoked cheddar topped with hollandaise
BBQ Benedict
house smoked brisket, red onion marmalade, poached eggs and BBQ hollandaise on a biscuit served with home fries*
Skillet Baked Eggs
spiced parsnips and turnips, brussels sprouts, carrots, spinach, swiss cheese, eggs and home fries*
Stuffed French Toast
challah bread, bourbon bananas, bacon, espresso whipped cream, fresh fruit
Omelette
herb pesto, roasted tomatoes, parmesan cheese, home fries*
Chicken and Waffles Sliders
pickle brined fried chicken on belgian waffle sliders with honey hot sauce served with fresh honey comb and with home fries*
Shrimp and Grits
Shrimp, house cured tasso ham, garlic, scallions, butter and cream over a fried cheddar grit cake
Chorizo Sausage Gravy and Biscuits
skillet baked biscuit, house made chorizo sausage gravy, home fries*
Burrito Bowl
seasoned rice, roasted corn, black beans, roasted red peppers, salsa verde, queso fresco, fried avocado, chipotle aioli
---
*Our home fries are cooked in duck fat and seasoned with rosemary, parsley and thyme*
Bacon
Local dry cured smoked pork belly
Scrapple
Everything but the oink
Chorizo Sausage
-
Breakfast Sausage
-
Biscuit
skillet baked biscuit, raspberry honey
Focaccia Bread
house made, herb olive oil
Seasonal Fresh Fruit
-
Home Fries
cooked in duck fat and seasoned with rosemary, parsley and thyme
Chorizo Sausage Gravy
-
Everything Bagel
*add vegetable cream cheese
Coffee by Burlap and Bean
-
Cold Brew Coffee
-
Mimosa
sparkling wine, orange juice
Housemade Bloody Mary
Tito's Vodka & bloody mary mix The Bay or Stoli Hot
Poinsetta
sparkling wine, cranberry juice
Bellini
sparkling wine, peach schnapps
Peach Sunrise
peach vodka, peach schnapps, orange juice
Add Raspberry Peach Gran Marnier
No reservations accepted. Station Taproom is first come, first serve.
Hours
Open at 3pm Monday - Thursday
Open at noon Friday & Saturday
Brunch starts at 11am on Sundays
Happy Hour
Served Monday - Friday 4:30 - 6:30pm
$4 Select Pints, $5 Pulled Pork Sandwiches
$1 off Wine by the Glass and $1 off Bar Snacks
Connect With Us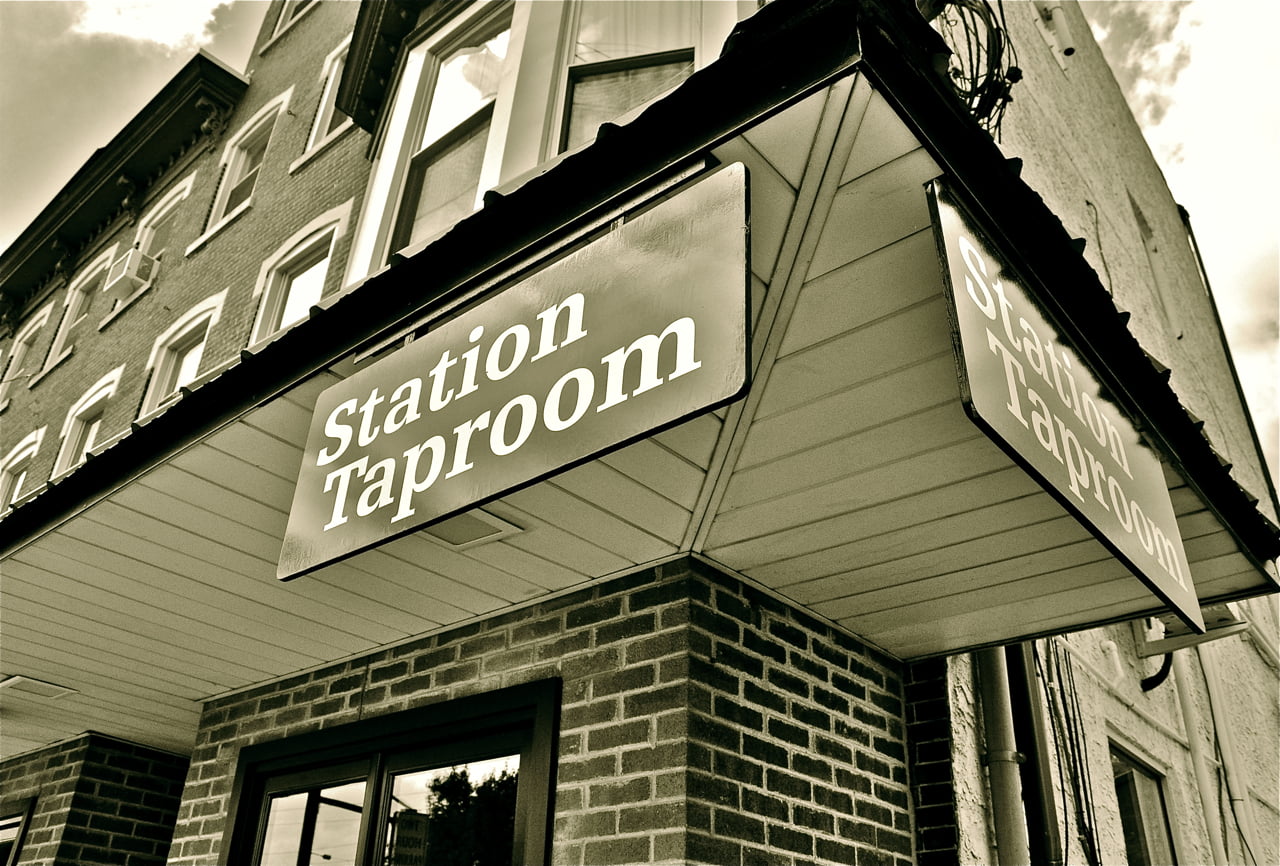 207 West Lancaster Ave, Downingtown, PA
Visit Bottle Room
To enjoy more on tap or beer-to-go, visit the Bottle Room next door.