Free Will Experimental Passionfruit Hibiscus - Gose 4.2%
Fonta Flora Torches Vol. 2 - Mixed Culture Sour 6.2%
Dupont Avec Les Bon Voeux - Saison 9.5%
50/50 2017 Rye Cuvee - Imperial Stout Aged in Rye Whiskey Barrels 11.9%
Allagash White - Witbier 5.1%
Tired Hands HopHands - Pale Ale 5.5%
Stillwater Cellar Door - Farmhouse Wheat Ale 6.6%
Brothers Kershner Johann - German Pilsner 5.2%
East Branch Ferme - Saison 6.1%
Maine Lunch - IPA 7%
Iron Hill Spruce Moose - IPA with Spruce Tips 6%
Fiddlehead IPA - IPA 6.2%
New Trail Tropical Double Broken Heels - DIPA 9.2%
Iron Hill Tenement on Wheels - Baltic Porter 7.2%
Iron Hill Philly Phavorite - NEIPA 6.7%
Dressler Estate Rhizomes Rising - Dry Hopped Cider 7.3%
White Peach Sangria - pinot grigio, peach vodka, grand marnier, ginger ale
Pomegranate Jalapeno Margarita - tequila, pomegranate juice, housemade sour mix, jalapeno simple syrup
New York Sour - rye whiskey, lemon juice, simple syrup, malbec
Bourbon Pear Cider - bourbon, pear nectar, sparkling apple cider, club soda
Old Fashioned - Templeton Rye, simple syrup, muddled orange, aromatic bitters
Moscow Mule - Tito's vodka, lime juice, ginger beer
Cucumber Cooler - Espolon Tequila, St. Germain Elderflower Liqueur, simple syrup, lemon juice, lime juice, cucmber
Lillet Gin Martini - Hidden Still Gin, Lillet Blanc, lemon juice, St. Germain Elderflower Liqueur
Barrel Aged Manhattan - Templeton Rye, aromatic bitters, Carpano Antica Formula Sweet Vermouth
Mojito - Bacardi Rum, lime juice, simple syrup, mint, club soda
Vodka Pineapple Crush - Tito's, pineapple juice, orange juice, lime juice, aperol, agave nectar, ginger beer
Mezcal Pineapple Paloma - mezcal, lime juice, pineapple juice, simple syrup, bitters
Cold Brew Martini - vanilla vodka, coffee liqueur, cold brew coffee
Tequila Cherry Sour - tequila, luxardo cherry syrup, simple syrup, lemon juice, lime juice, egg white
Cabernet Sauvignon - Ocnautic
Montepulciano D'Abruzzo - Montefresco
Pinot Noir - Lyric
Tempranillo - Evolution
Rosé - Figuiere
Prosecco Rose - Elmo Pio
Sauvignon Blanc - Silver Moki
Chardonnay - Waterbrook
Pinot Grigio - Argento
Brunch Served Sundays 11am-3pm
Burlap & Bean Coffee
Mimosa - orange juice, champagne
Bellini - peach schnapps, champagne
Poinsettia - cranberry juice, champagne
Peach Sunrise - orange juice, peach schnapps, peach vodka
Cold Brew Martini - cold brew coffee, vanilla vodka, coffee liqueur
Tequila Sunrise - orange juice, grenadine, espolon tequila
French 77 - lemon juice, elderflower liqueur, champagne
Bloody Mary - house made bloody mary mix, Tito's vodka
* sub Holla Sweetfire Jalapeno Vodka or The Bay Vodka to spice it up
Iceberg Wedge... $15
iceberg lettuce, bacon, cherry tomatoes, red onion, bleu cheese crumbles, hard boild egg, ranch dressing
Caesar... $13
romaine lettuce, housemade caesar dressing, parmesan cheese, garlic herb croutons
*add chicken $5, shrimp $7, tofu $4, fried chicken $7, smoked brisket $7
Mussels... $14
Prince Edward Island mussels, thai red curry broth, cilantro, baguette
Buffalo Wings... $16
choice of hot, garlic parmesan, cumin BBQ, honey jerk OR Alabama Dry Rub with White BBQ sauce served with bleu cheese & celery
Poutine... $12
hand cut fries, cheddar cheese curds, house made gravy, parsley
*add smoked brisket or shredded beef $7
Wonton Nachos... $16
wonton chips, hoisin-berry BBQ pork, mozzarella, pepper jack, red peppers, pickled red onion & jalapenos, cilantro
Fried Cauliflower... $12
breaded & fried cauliflower, thai chili sauce, sesame seeds and scallions
Truffle Fries... $6
hand cut fries, sea salt infused with black truffle
Brussels Sprouts... $9
flash fried brussels sporuts, pickled jalapenos, whiskey maple syrup, smoked cheddar cheese
Bloody Mary Deviled Eggs... $8
bloody mary spiced egg mix, cornishons, green olives, celery and old bay garnish
Edamame... $6
steamed soy bean pods, sea salt, lime
Chips & Salsa... $6
corn tortilla chips, salsa verde, salsa roja
Pulled Pork Sandwich... $15
slow roasted pork butt, toasted sesame seed bun with choice of North Carolina, Cumin BBQ, OR Alabama White BBQ served with coleslaw and hand cut fries
Smash Burger... $16
Wyebrook Farms beef patties (2), cooper sharp cheese, bacon onion jam, porchini mushroom aioli, lettuce, tomato, onion, toasted sesame seed bun served with hand cut fries
Buffalo Chicken Sandwich... $16
buttermilk fried chicken, hot sauce, napa cabbage-celery slaw, whipped bleu cheese, toasted sesame seed bun served with hand cut fries
Kimchi Brisket Panini... $17
smoked brisket, house fermented kimchi, cooper sharp cheese and Asian 1000 island dressing pressed on sourdough served with hand cut fries
French Dip Panini... $16
shredded beef, provolone, horseradish mayo, beef jus, toasted sourdough, served with hand cut fries
Black Bean Burger ... $16
housemade black bean & quinoa patty, vegan american cheese, chipotle avocado spread, pickled red onion, lettuce and tomato on toasted ciabatta served with hand cut fries
Thai Red Curry... $14
bell peppers, zucchini, asparagus, mushrooms, basmati rice, thai red curry broth, housemade naan bread
*add chicken $5, shrimp $7, tofu $4
Hot Chicken Mac & Cheese... $16
spiral noodles, turmeric-cooper sharp cheese sauce, bacon, cherry tomatoes, spicy fried chicken, scallions
*vegetarian option available upon request
Dan Dan Noodles... $18
udon noodles, ground pork, dan dan sauce, bok choy, cilantro, roasted peanuts
Shrimp & Grits... $18
shrimp, tasso ham, garlic, lemon, scallions, butter, cream, over a fried cheddar grit cake
Tamale Pie... $16
chorizo, Wyebrook Farm ground beef, black beans, corn, sofrito, pepper jack cheese, masa dough topping, salsa verde, crema
Fish & Chips...$18
beer battered fried cod, hand cut fries, house made tartar sauce
Popcorn Chicken... $10
served with handcut fries
Kid's Smash Burger... $11
Wyebrook Farms beef patty (1), cooper sharp cheese, lettuce, tomato, onion, toasted sesame seed bun served with handcut fries
Grilled Cheese... $8
served with handcut fries
Mac & Cheese... $12
served with hand cut fries
Fish & Chips...$12
battered fried cod served with hand cut fries
Brunch Served Sundays 11am-3pm
Pastrami Lox Toast... $18
toasted sourdough, dill caper cream cheese, pastrami seasoned house cured salmon, pickled red onion, fried capers, cornishons, lemon dressed arugula, duck fat home fries
Soft Scrambled Egg Toast... $15
toasted sourdough, arugula, roasted red pepper-tomato bruschetta, fresh mozzarella, soft sreambled egg, basil olive oil, duck fat home fries
Scrapple Benedict... $17
house made smoked cheddar biscuit, Forge Hill Farms scrapple, panko breaded deep fried poached egg, sriracha hollandaise, duck fat home fries
Eggs Benedict... $15
toasted english muffin, sliced ham, poached egg, hollandaise, duck fat home fries
Breakfast Smash Burger... $17
two Wyebrook Farms beef patties, cooper sharp cheese, sunny side up egg, bacon onion jam, porcini mushroom aioli, lettuce, tomato, onion, toasted sesame seed bun, hand cut fries
T.L.T. ... $16
house made tofu "bacon", mixed greens, garlic chickpea "mayo", toasted sourdough, hand cut fries
Sausage Gravy & Biscuits... $16
house made smoked cheddar biscuit, sausage gravy, duck fat home fries
*add sunny side up egg $1.5
Pork Roll Cheesesteak... $14
chipped pork roll, cooper sharp cheese, long roll, hand cut fries
*add scrambled eggs $3
Buffalo Wings... $16
hot, cumin, honey jerk, OR alabama dry rub with white BBQ served with bleu cheese & celery
Pulled Pork Sandwich... $15
slow roasted pork butt, toasted sesame seed bun, choice of North Carolina, Cumin BBQ, or Alabama White BBQ, coleslaw hand cut fries
Shrimp & Grits... $18
shrimp, house cured tasso ham, garlic, scallions, lemon, butter, cream, fried cheddar grit cake
Stuffed French Toast... $15
sourdough french toast, whipped marscapone & ricotta, strawberries, powdered sugar, fresh fruit
Iceberg Wedge... $15
iceberg lettuce, bacon, cherry tomatoes, red onion, bleu cheese crumbles, hard boiled egg, ranch dressing
*add grilled chicken $5, shrimp $7, tofu $4, fried chicken $7
Caesar... $13
romaine lettuce, housemade caesar dressing, parmesan cheese, garlic herb croutons
*add grilled chicken $5, shrimp $7, tofu $4, fried chicken $7
Kid's Brunch Menu
Kid's Smash Burger... $11
Wyebrook Farms beef patty (1), cooper sharp cheese, lettuce, tomato, onion, toasted sesame seed bun, hand cut fries
Eggs... $8
scrambled eggs, duck fat home fries
Grilled Cheese... $8
cooper sharp cheese, toasted sourdough, handcut fries
French Toast... $10
sourdough french toast, choice of home fries or fruit
No reservations accepted. Station Taproom is first come, first serve.
Hours
Open for dine in!
Doors open at 3pm Tuesday-Thursday and 12pm Friday-Saturday. Kitchen closes at 9:30pm.
Sunday Brunch
11am-3pm
Phone: 484-593-0560
Happy Hour
Tuesday - Friday 4:30 - 6:30pm
$5 Select Pints, $7 Pulled Pork Sandwiches
$1 off Wine by the Glass, $2 off Select Cocktails and $2 off Bar Snacks
Connect With Us
207 West Lancaster Ave, Downingtown, PA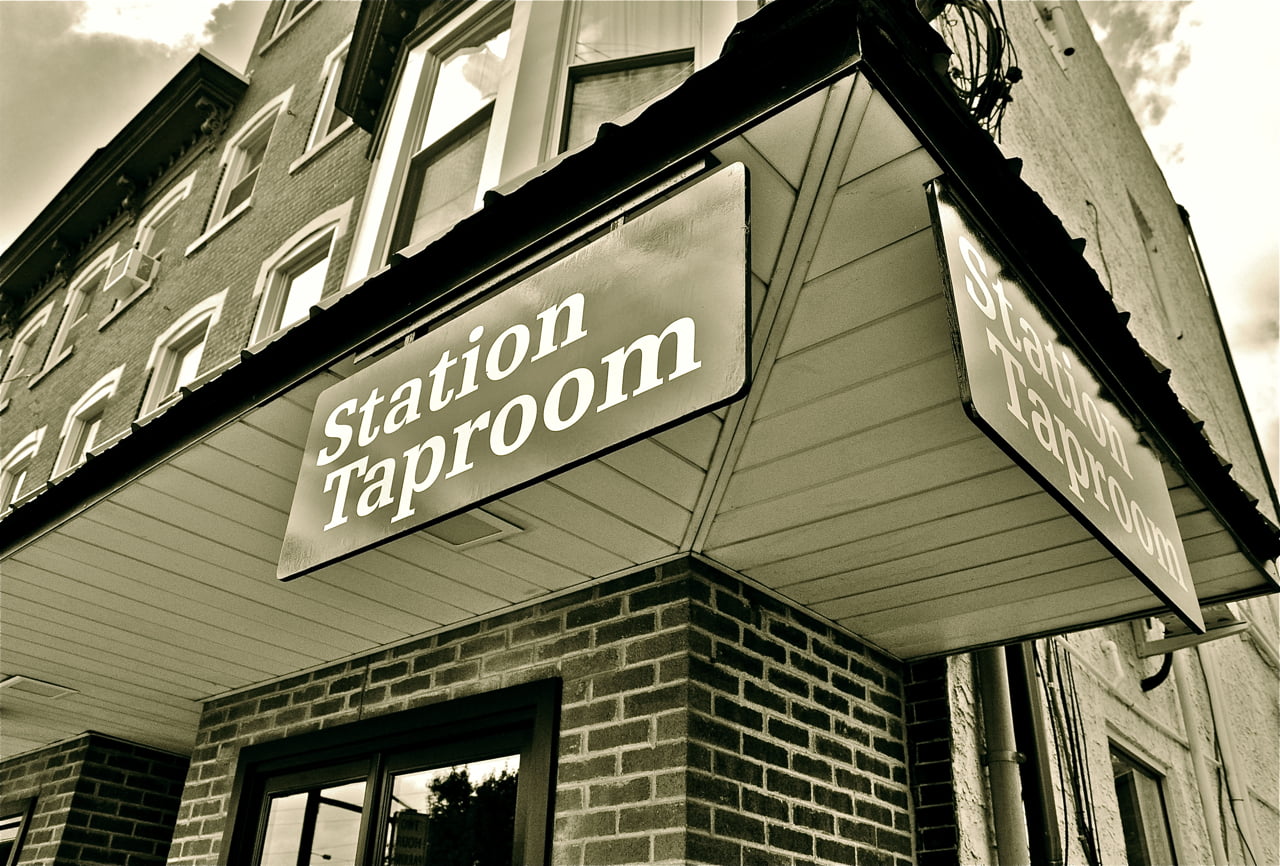 Visit Bottle Room
To enjoy more on tap or beer-to-go, visit the Bottle Room next door.